Birding in Tadoba National Park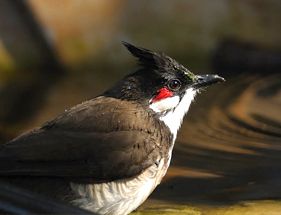 The existence of River Andhari inside the Tadoba National Park gives way to a wide diversity of water birds, and raptors. There are approximately 195 species of birds that have been recorded in the park, including three endangered species, including the grey-headed fish eagle, the crested serpent eagle, and the changeable hawk-eagle. The Tadoba is one of the finest birding destinations in Maharashtra with dense forest zones, bamboo zones, grasslands, and wetlands that suits both the forest and the wetland birds.
The interesting species of birds in the reserve, including the migrants are-Orange-headed Thrush, Indian Pitta, Crested Treeswift, Stone Curlew, Crested Honey Buzzard, Paradise Flycatcher, Bronze-winged Jacana, Lesser Goldenbacked Woodpecker, Warblers, Black-naped Blue Flycatcher, Oriental Honey Buzzard, White-eyed Buzzard, Pariah Kite, Eurasian Sparrow Hawk, Black Shouldered Kite, Shikra, Short-toed Snake Eagle, Bonelli's Eagle, Common Kestrel, Open Bill Stork, Black Ibis, Bar Headed Goose, Black Strok, Lesser Adjutant Strok, Brahminy Duck, Comb Duck, Little Grebe, Grey Heron, Large Egret, Median Egret, Indian Shag, Purple Heron, Banded Bay Cuckoo, White-breasted Water Hen, Green Sandpiper, Wood Sandpiper, Common Sandpiper, River Tern, Painted Sand Grouse, Jungle Bush Quail, Indian Peafowl, Spotted Owlet, Forest Wagtail, Grey Wagtail, White Wagtail, House Sparrow, Indian Robbin, Indian Roller, Ruby Throat, Blue Throat, Black Redstart, Grey Tit, Common Stonechat, Brahminy Myna, Asian Pied Starling, House Crow, Large-billed Crow, and many more.